why Camteo?
Because it is the first Ticket-based
Video Conferencing Platform
Camteo gives you the capabilities to Create, Organize and Run a Ticket-based Video Conferencing Session. Our Slot Managment Platform give you the capabilities to book or buy a Slot in an Upcoming Session easily.
Be a Provider or an Attendant of a Session via our proprietary Video Conferencing platform. Our worldwide-distributed P2P Video Conferencing Infrastucture gives you the capabilities to run Run encrypted Video Conference Session
Are you a Session Provider? Camteo give you the capabilities to get your payment instantly after a successful Session. Because Telework without Payment is a hobby...
need more ?
maximize your Session attendance
and give Value to your Time
Nothing is more discouraging than spending countless hours planning a Session (e.g. Fixed Sessions with a Patients) only to see a meager turnout. Consider these pro Camteo features for filling the virtual Slots and maximizing attendance on any size meeting or Session.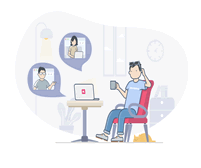 Collaborative tools
Collaboration is the main axis or our point of view. Hence, we have integrated all the required tools to support it e.g DI.CO.M integration, Screenshare, Attendee Management, Youtube Integration and many more.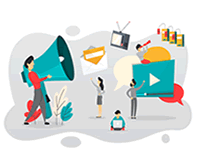 Promotion Tools
We have tailored every aspect of our done-for-you Promotion Tools around one core principle: "remove as much guesswork as possible by actively managing each piece of the Session promotion strategy in-house."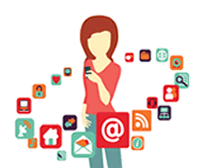 Socialite Tool
Socialite tool amplifies your message to the world helping more people to achieve your upcoming Session.